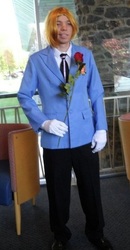 Cosplay Joe
Musician / Comedian / Cosplayer
Westmont, NJ

See also:
AnimeMusicVideos.org
and
Vimeo
Biography:
Cosplay Joe used to do anime specific standup comedy from 2008 to 2012. On May 12, 2012, he announced that he was going to better utilize his skills and make the move to music. Specializing in anime Christmas songs, Cosplay Joe gives you some great early holiday cheer and a special early Christmas present, wrapped in Inuyasha, RPG, and Pokemon Go wrapping paper!

In addition, he also makes AMV's, ranging from sentimental to comedy and plenty of stuff in between! He also does panels ranging from Anime Opening/Closing Themes to AMV commentary to Final Fantasy. Also, he does a panel with very positive messages called "Inspirational/Uplifting Moments in Anime" which is, precisely that, those kinds of moments in anime with commentary by Cosplay Joe himself.
Anime Convention Guest Appearances