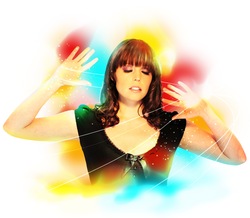 Mary Bichner & Planetary Quartet
Band
Boston, MA

See also:
Tumblr
and
Soundcloud
Biography:
Mary Bichner (www.marybichner.com) is an eclectic classical-meets-pop composer with the bizarre musical superpowers of perfect pitch (the ability to recognize notes and chords by name upon hearing them played) and synesthesia (a neurological condition that causes Mary to "see" splashes of specific colors when she hears their corresponding pitches sounded). Called a "musical genius" by CBS News (http://www.youtube.com/watch?v=LIPASlZibFQ), and invited to Harvard University's prestigious neuroscience lab to be studied for her brain's unusual wiring, Mary creates richly-colored compositions that delight classical enthusiasts and indie-pop rockers alike.

Planetary Quartet is a rotating ensemble of some of Boston's finest string players founded to bring Mary's unique double-viola string quartet works and arrangements to life. She is thrilled to be joined by Planetary Quartet for this performance!

Join composer Mary Bichner and Planetary Quartet for a musical set celebrating everyone's favorite magical girls, the Bishoujo Senshi of Sailor Moon! The ensemble will perform the contents of Mary's forthcoming Sailor Moon-inspired EP (due out in early August 2014), as well as theme songs, image songs and instrumental pieces from the Sailormoon anime specially arranged for double-viola string quartet. (Moonlight Densetsu singlalong, anyone? :)) In the name of the moon, they will rock you!
Anime Convention Guest Appearances