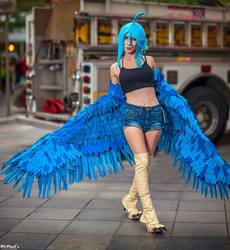 Kyuu Vixen
Cosplayer
USA

Biography:
Hello, my name is Kyuu Vixen!
I have been cosplaying since I was 12 years old and been on the competition scene for the last 10 years, on and off. Cosplaying is really a major part of my life. It was originally just a hobby for me, but it's so much more then just a form of expressionism. It has become a way to show creativity, personality, construction, and is an outlet.

Another thing that I love is that "cosplay" is not restricted to just one group. Anyone can fit in, at any age, and this is all about passion for the geek culture.

My father brought me to my first convention many years ago, ( I was raised by a geek.). Mesmerized by how many beautiful costumes were there. I had to experience what they were doing, to be able to not worry about anyone or anything, get into character that I cared about so much. To meet others at a convention who are like minded.

Now, I am a Master level, winning 10-15 awards with some titles of Judges Choice, Best Skit, Best Performance, Intermediate Craftsmanship, Best Walk On, ext.

I am a commissioner, creating affordable outfits for other cosplayers.

A panelist, holding/guesting local and out of state panels at various cons mainly for cosplaying "How to Cosplay on a Budget," "Cosplay Competition Crash Course," "Be who YOU want to be," and "Ask a Pony." for such conventions as Denver Comic Con, PortConMaine, and Anime Boston.

I have been a Cosplay Competition Judge for three years for Running of The Leaves Con (2015) (2014) (2013) in which our competition contestatants ranged from 30-60 participants!
Anime Convention Guest Appearances