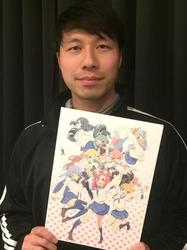 Tomotaka Misawa
Producer
Japan
Biography:
Tomotaka Misawa is a video production producer with experience centered around various genres such as movies, television, dramas, commercials, corporate videos, variety television programming, and music clips. More recently, he has been involved with the planning and production of films such as "Gothic & Lolita Psycho" and "High Tension Please", and more.

The movie "Assassin", released in Japan in September of 2011, garnered the attention of overseas buyers in the Cannes film market. In January of 2012, the film was screened in Seoul, South Korea, leading to distribution in Malaysia, Thailand, Vietnam, Taiwain, and other Asian countries. This was expanded further into the North America and Europe from the fall of 2015. (OMG is handling distribution.)

Mr. Misawa is also responsible for the production and planning of the original Urawa animation television series, "Urawa no Usagi-chan". The business model behind this show has received high praise and in 2014 it was awarded the "Community Business Award" by Saitama city. On April 9, 2015, the show began broadcasting via Saitama TV and other networks. Having contributed significantly to regional development, this project was adopted by METI's Kanto Bureau of Economy & Trade department as part of an endeavor in a new field of business. Currently, the anime is used to help cultivate and contribute to the development of a comprehensive regional industry network.
Anime Convention Guest Appearances