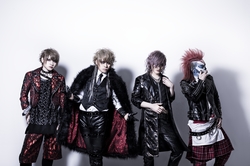 Lantana
Band
Tokyo, Japan

Biography:
Despite an intense sound as a band and a dark visual kei mask, the songs feature pleasant hooks with melodies that makes you pay close attention. This band is LANTANA, a currently active loud rock visual kei band based in Tokyo.

LANTANA first began their activities in July of 2015 and in December of the same year released their first mini album and held a Tohoku region tour. In February of 2016, they held their first sponsored event. With their next sponsored events held consecutively in June, July, and August, LANTANA
released their 1st single and held a vigorous 3-man event. In May of 2017, their 2nd single was released and in July they held their first oneman event.
Anime Convention Guest Appearances