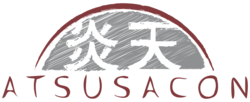 Atsusacon 2023
July 8-9, 2023
Ghent ICC
Ghent, Belgium
Anime Convention
Atsusacon is a convention for fans of Japanese (pop) culture and the more general Asian culture like anime, manga, music, where you can meet up with friends and like-minded people.

Our location, the ICC Gent (Belgium), is located in the beautiful citadel park of Ghent which is the perfect location for photoshoots.

You can find delicious food stalls, rare merch and figures, kimono's straight from Japan, various activities, boardgames, and more!

We're looking forward to bringing you into another world with Atsusacon 2023: Into Another world -isekai edition- !