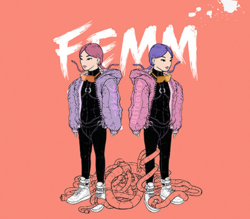 FEMM
Musicians
Tokyo, Japan
Biography:
A dance and rap duo formed by RiRi and Lula, mannequins have emotions. A new icon for TOKYO POP.
They can't sing or talk so each girl's agent, "Honey-B" and "W-Trouble" always speak for them.
"Fxxk Boyz Get Money," released in 2014, became a big hit among teens in the US and Europe with its extreme rap and sexy TWERK dance. As a girl's anthem, it received highly acclaimed by fashionistas and influencers around the world. Its music video was viewed more than 1 million times on YouTube.
Their digital album "Femm-Isation" was released on an indie label and it hit # 10 on the Billboard world hit chart.
In Japan, they appear on the Google Android TV commercial "New Android version," and in 2016, they made a major debut with an EP+1st Album "PoW!/ L.C.S. +Femm-Isation."
They also made a debut in UK and selected as the most worth noting artist for 2016 by Huffington Host Entertainment UK and was mentioned on international recognized art website, Creators Project.
A gagaku trap, "animus" by the female rap crew teamed up with FAKY and Yup'in has been premiered at London's DAZED.
From mainstream to underground, FEMM has been exciting people around the world.
Anime Convention Guest Appearances
Japan Expo 2022 - July 14-17, 2022 in Paris, France
AniMinneapolis 2020 - May 22-24, 2020 in Minneapolis, MN

Convention Cancelled

Animé Los Angeles 2020 - January 9-12, 2020 in Ontario, CA
Con+Alt+Delete 2019 - December 20-22, 2019 in Rosemont, IL
Anime Midwest 2019 - July 5-7, 2019 in Rosemont, IL

Unable to Attend Due to Visa Issue

Anime Matsuri 2018 - March 30 - April 1, 2018 in Houston, TX

Cancelled Appearance

Tokyo in Tulsa 2014 - July 11-13, 2014 in Tulsa, OK