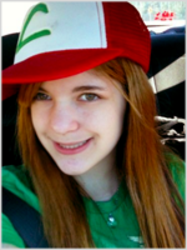 Sarah Bloom
Costumer
Concept Galaxy
USA
Biography:
Sarah Bloom (aka "Li'l Red") has finally "come of age". After several years of loyal service as "talent" for Concept Galaxy and lolfilmworks Sarah will now be joining the ranks of the C.G. Creative Team as it's new Costuming Director.

What does this mean for Sarah? For Concept Galaxy? For future convention shows? It means you should expect to see a variety of new and exciting costumes and props at future C.G. shows, as Sarah Bloom and Stephanie Chateau are now working very closely together on several costume design projects to further enhance C.G.'s show quality and gaming interactivity for hallway events.

Ever since she was very little Sarah has had an interest in costuming and the entertainment industry. Before joining Concept Galaxy she would compete regularly in cosplay contests for fun and to continually challenge herself to grow and improve. Sarah is very excited for the chance to evolve even further as an artist and show her true potential.
Anime Convention Guest Appearances