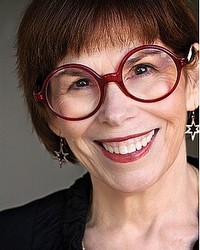 Mona Marshall
Voice Actress
USA
Biography:
Mona's voice may be best known to anime fans as: Haku in Naruto, Doraemon in Doraemon, Konekomaru Miwa in Blue Exorcist, Koushiro "Izzy" Izumi in Digimon Adventure, Motoko Aoyama in Love Hina, Ryoko in Tenchi Muyo! GXP, and Toboe in Wolf's Rain. But that's only just the beginning of her anime credentials. She's had leading roles in anime such as: Armitage: Dual Matrix, Carried by the Wind: Tsukikage Ran, Chobits, El Hazard - The Magnificent World, Kyo Kara Maoh, Last Exile, Magic Knight Rayearth, Rozen Maiden, and Street Fighter Alpha. All told, Mona has been in over 150 anime titles!

Mona is also well known in the video game world lending her voice to such titles as: .hack//G.U, Brave Fencer Musashi, Drakengard, Eternal Sonata, Final Fantasy Crystal Chronicles: Ring of Fates, Grandia III, Guild Wars Factions, Persona 3, Ratchet & Clank, Star Ocean: Till the End of Time, Suikoden V, Tales of Vesperia, and Wild Arms 4.

If that's not enough, Mona can be heard on several prominent non-anime titles as well. She is the current voice of Sheila Broflovski, Linda Stotch, Token and Bebe's Mom, and various others on South Park. She can also be recognized as Moki in Fraggle Rock, Tracy Milbanks in James Bond Jr., and Kat in Rambo. Mona has also had roles in many other shows such as G.I. Joe: A Real American Hero, Inspector Gadget, Jackie Chan Adventures, Jem and the Holograms, Rainbow Brite, The Smurfs, and Transformers.

Additionally, Mona was featured in Bang Zoom's Adventures in Voice Acting and has her own TV Tropes page!
Anime Convention Guest Appearances