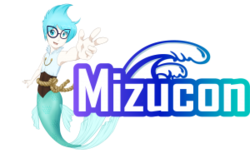 Mizucon 2019
May 26-27, 2019
Hilton Miami Airport Blue Lagoon
Miami, FL
Anime Convention
Pull out your best swimsuit cosplays and mermaid tails because we're back! We are extremely pleased to announce the return of Mizucon to Miami.

This year we've completely revamped our convention to bring our attendees unique and exciting events the likes of which has never seen before on the Floridian convention scene.

We look forward to seeing you.
Mizucon 2019
— May 26-27, 2019
Mizucon 2017
— August 25-27, 2017
Mizucon 2016
— August 19-21, 2016
Mizucon 2015
— October 2-4, 2015
Mizucon 2014
— October 3-5, 2014
Mizucon 2013
— June 14-16, 2013
Mizu Con 2012
— August 17-19, 2012
Mizu Con 2011
— August 19-21, 2011
Mizu Con 2010
— August 20-22, 2010
Mizu Con 2009
— August 28-30, 2009
Mizu Con 2008
— December 27-29, 2008